Posted: 09-23-2020
Expanded Metal Totes – The 'Cheap' Industrial Standard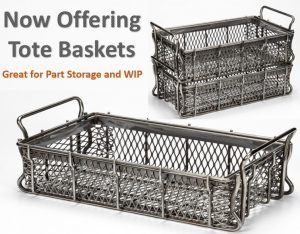 Do you need a large quantity of wire baskets for a low price? Are you struggling with the durability of plastic totes?  Are your work-in-process parts getting damaged or causing damage to your current storage solutions?   Expanded Metal Totes are the solution you need.  They may be cheap in price but not in value!
The metal tote is an industry standard and time-tested basket for work-in-process and part storage.  Totes offer a very economical and durable solution for factories looking to store and protect parts between processes or transport.  After a couple years of design and development,  AnySizeBasket.com is excited to offer a product line of metal totes.  Our metal totes have been on sale for over a year with select customers.  These customers have found them durable and useful to fill their part storage needs. 
"Our totes work great! At a good price to match."
Bryan, Metal Fabrication Mgr.
The AnySizeBasket.com totes, designed by Three M Tool with their vast basket manufacturing experience, are offered in three different sizes.  Each size will stack and interlock with itself, allowing for a sturdy and space-efficient storage solution whether loaded with parts or empty awaiting parts.  The exterior wire frame of the expanded metal tote is made of 5/16″ DIA wire with 4 or 5 support rods (3/16″ DIA) along each side and bottom of the basket.  This web of support rods gives the metal tote extra protection against deformation from dropping, collision, or other stresses.  The metal construction of our totes can be done in your choice of Carbon Steel, Stainless Steel, or Zinc Plated Carbon Steel.   
An unique offering on AnySizeBasket.com, not found on any other website, is the ability to line the metal tote with woven wire mesh (4 mesh x .047 woven wire).  This mesh tote allows for the great strength and durability through the large wire frame, while being 30% lighter in weight!  A big advantage in inter-facility transport of goods or simply reducing ergonomic lifting concerns for operators. 
Again, if you are searching for that no-fringes, industrial, durable basket at a low price – expanded metal totes are your solution!  Check out all of our offerings of metal totes and compare them to standard stacking wire mesh solutions.   AnySizeBasket.com is proud to offer a wide selection of custom-made standard industrial wire baskets.  Our sister company, Three M Tool, can handle more part specific or application requirements in custom designing a basket solution.