YOUR BASKET, A GOOD PRICE, IN TWO WEEKS
AnySizeBasket.com was the vision of Chief Engineer and Owner of Three M Tool, Austin Hunt, to supply customers with the exact wire basket they desire with little hassle and quick delivery.

Since 2007, Customers have used our website to determine the size, style, and specifications for their custom industrial wire mesh basket. They become basket designers in seconds, bringing their basket and Austin's vision into reality: a quality basket, at a good price, made-to-order in less than two weeks!
METAL PRODUCT EXPERTS, SINCE 1946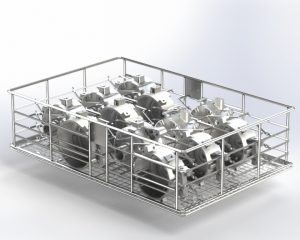 We at AnySizeBasket.com (Division of Three M Tool) can provide you any basket designed on our website with high quality Made in the USA workmanship due to our long history in producing wire baskets.  Austin and our team of engineers have standardize our manufacturing process to produce a quality basket with quick turnaround.  Three M Tool has over twenty years of designing part-specific baskets and over 70 years of metal design and fabrication to meet the needs of the engineering teams at customers like General Motors, Campbell Chain, Harley Davidson, Johnson and Johnson, the list continues… Our expertise has allowed us to offer this website's standard designs of wire mesh baskets as made-to-order alternatives to the many, many pre-determined sizes found on catalog sites  such as McMaster Carr, Grainger, and Global Industrial.  To date, we have produced hundreds of thousands of baskets for our clients.

Customers in the aerospace, automotive and manufacturing industries rely on our products for catching, sorting, and cleaning parts of varying sizes. Because we build our baskets to your specifications, the number of potential applications is unlimited
GUARANTEED QUALITY
Each basket is Made in the USA with quality workmanship and quality materials.  We stand behind our workers and assure your purchase with a Quality Guarantee on all materials and workmanship of our carbon and stainless steel baskets. In the unlikely event you experience a problem with one of our baskets, simply call us and we'll arrange for a suitable replacement to be sent to you right away.
Customer Service Leaders
At AnySizeBasket.com, we are committed to superior customer service. If you have a question about your order or need advice with any aspect of the design process, contact us and a live USA-based customer service representative will be available by phone or email to provide the answers you need.
HOW CAN WE HELP? 
Feel free to contact us directly for questions, order status, or queries about custom wire baskets:
AnySizeBasket.com (Division of Three M Tool)
1038 Elm Street
York, PA 17403
Phone: 1 (800) 955-0868
Email: orders@threemtool.com
Proud Member: